V3 Borewell Submersible Pumps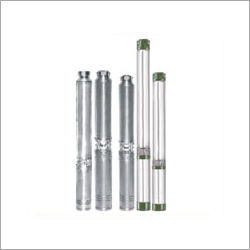 V3 Borewell Submersible Pumps
Product Description
V3 Borewell Submersible Pumps (Oil Filled) 80mm
Being certified with ISO 9001 : 2008 and ISO 14000, we are an outstanding Manufacturer, Exporter and Supplier of Borewell Submersible Pumps (Oil Filled). Under TQM concepts, we conduct rigid inspection procedure to ensure the optimum functionality, performance and working life of the offered pumps. Our V3 Borewell Submersible Pumps (Oil Filled) 80mm, are widely used in Hotels, Hospitals, Irrigation, Water circulation systems, Nurseries, and other industries.
Food grade cooling oil filled motor consists of ball bearing so as to reduce the frictional losses and improve efficiency of the Borewell Submersible Pumps. The oil used work as lubricant as a coolant, and give the motor a longer life because of less wear & tear. This also provide smoothness of operations of the pump.
Superior Attributes:
Excellent discharge
Highly energy efficient
Low energy consumption
Easy to repair and rewind
Noise free working
Trouble free suction.
V3 Borewell Submersible Pump set (Oil Filled/Water Filled) 80mm
Confirming to IS 8034 : 2002
Specifications :

Power Range

0.5 HP - 1.5 HP

Version

220-240V, 50 Hz, A.C.

Method of starting

Capacitor start and capacitor run (CSCR) in water filled.
Capacitor start and run (CSR) in oil filled

Speed

2880 rpm.

Discharge Range

25 80 lpm

Head Range

12 83 mtr

Outlet size

25 & 32 mm

Degree of Protection

IP 68

Maximum Outer diameter

76 mm.

Duty

S1 (Continuous)

Mounting Standard

NEMA / Key way

MOC Pump

NRV Housing

Cast Iron (Regular) / Stainless Steel (Platinum)

Impeller

Noryl*

Diffuser

Noryl*

Pump Jacket

Stainless Steel

Pump Shaft

SS 410

Suction inter Connector

Cast Iron (Regular) / Stainless Steel (Platinum)

Coupling

SS 410

MOC Motor

Upper - Lower Housing & Motor Base

Cast Iron (Regular) / Stainless Steel Jacket (Platinum)

Stator Body

Stainless Steel

Shaft

SS 410

Bearing

Leaded Bronze in water filled

Anti frictional deep groove ball bearing in oil filled

Thrust Bearing Set

Carbon V/s SS in water filled
Product details
| | |
| --- | --- |
| Voltage | 200 - 240 V |
| Power Rating | 0.75 kW |
| Type | Water Filled |
| Power Source | Electric |
| Brand | OSWAL |
| Motor Phase | Single Phase |
| Motor Horsepower | 1 HP |
| Usage/Application | Domestic |