V4 Borewell Submersible Pumps 100mm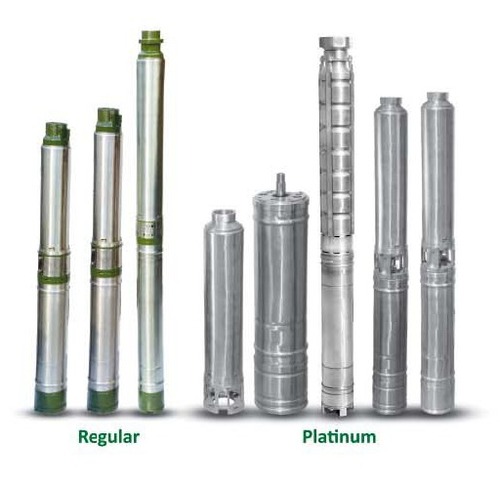 V4 Borewell Submersible Pumps 100mm
Product Description
V4 Borewell Submersible Pumps (Water Filled) 100mm
OSWAL, as a quality-oriented Manufacturer, Exporter and Supplier, offer reliable Borewell Submersible Pumps (Water Filled) 100mm. These are used a lot for water supply in hospitals, hotels, civil works, small farms, industrial fields, and allied purposes. Our offered V4 Borewell Submersible Pumps (Water Filled) 100mm is composed with the best rotor, bearings, stator and winding wire, thus it gives excellent performance. Moreover, it has some salient features such as noise-free operations, long service life and high energy efficiency. And due to its inbuilt check valve facilities, it ensure smooth flow and prevent back flow of liquid also. We make sure to offer the finest and flawless Borewell Submersible Pumps, as these are made in accordance of ISO 9001 : 2008 and ISO 14000 norms.
Features:
Compact as well as light weight
Non overloading power attributes
Easy to install, assemble and maintain
Vibration free
Optimum corrosion resistance.
V4 Borewell Submersible Pump set (Water Filled) 100mm - Confirming to IS 8034 : 2002
Specifications :
Power Range

0.5 - 5.0 HP in 1 Phase
0.5 - 7.5 HP in 3 Phase

Version

220-240V, 50 Hz, A.C.- 1 Phase
350-440V - 3 phase

Method of starting

In 1 Phase - Capacitor start and capacitor run (CSCR) in water filled & Capacitor start and run (CSR) in oil filled
In 3 Phase - DOL / Star Delta

Speed

2880 rpm.

Discharge Range

15 - 355 lpm in water filled
15 - 475 lpm in oil filled

Head Range

10 - 300 mtr

Outlet size

32, 40, 50 & 65 mm

Degree of Protection

IP 68

Maximum Outer diameter

98 mm

Duty

S1 (Continuous)

Mounting

NEMA / Key way

Power Range

0.5 - 5.0 HP in 1 Phase
0.5 - 7.5 HP in 3 Phase

Version

220-240V, 50 Hz, A.C.- 1 Phase
350-440V - 3 phase

Method of starting

In 1 Phase - Capacitor start and capacitor run (CSCR) in water filled & Capacitor start and run (CSR) in oil filled
In 3 Phase - DOL / Star Delta

Speed

2880 rpm.

Discharge Range

15 - 355 lpm in water filled
15 - 475 lpm in oil filled

Head Range

10 - 300 mtr

Outlet size

32, 40, 50 & 65 mm

Degree of Protection

IP 68

Maximum Outer diameter

98 mm

Duty

S1 (Continuous)

Mounting

NEMA / Key way
Motor Pump
| | |
| --- | --- |
| NRV Housing | Cast Iron (Regular) / Stainless Steel (Platinum) |
| Impeller | Nylon / Noryl* |
| Diffuser | Cast Iron / Noryl* |
| Pump Shaft | SS 410 |
| Suction inter Connector | Cast Iron (Regular) / Stainless Steel (Platinum) |
| Coupling | SS 410 |
| Pump Casing | Stainless Steel |
| NRV Housing | Cast Iron (Regular) / Stainless Steel (Platinum) |
| Impeller | Nylon / Noryl* |
| Diffuser | Cast Iron / Noryl* |
| Pump Shaft | SS 410 |
| Suction inter Connector | Cast Iron (Regular) / Stainless Steel (Platinum) |
| Coupling | SS 410 |
| Pump Casing | Stainless Steel |
MOC Motor

Upper, Lower Housing & Motor Base

Cast Iron (regular) / Stainless Steel Jacket (Platinum)

Stator Body

Stainless Steel

Shaft

SS 410

Bearing

Leaded Bronze in water filled.
Anti frictional deep groove ball bearing in oil filled

Thrust Bearing Set

Carbon V/s SS in water filled