Stainless Steel V4 Borewell Submersible Pumps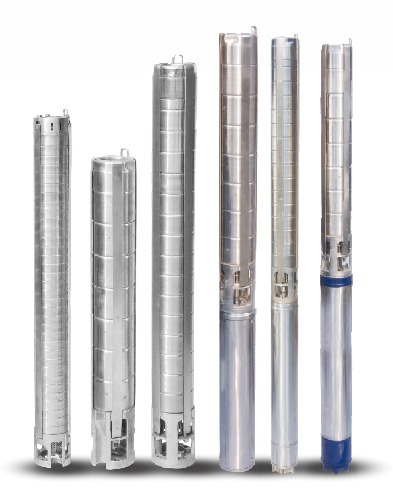 Stainless Steel V4 Borewell Submersible Pumps
Product Description
Stainless Steel V4 Borewell Submersible Pumps (Oil Filled)

As an outstanding Manufacturer, Exporter and Supplier of Stainless Steel V4 Borewell Submersible Pumps (Oil Filled) 100mm, OSWAL is a reliable name in the global market. The pumps are manufactured under TQM concepts, and thoroughly designed and tested to ensure their safe & reliable operations. Our offered Stainless Steel Borewell Submersible Pumps V4, find wide application in domestic water supply systems, hotels, hospitals and irrigation, as these have some salient attributes like vibration free and smooth operations, easy installation, high energy efficiency etc.
Major Features of V4 Stainless Steel Borewell Submersible Pumps:
Easily repairable & rewindable
High grade cooling oil filled motor
Higher discharge efficiency
Less frictional losses
Long service life
Maintenance free operations
Noiseless working.
V4 Borewell Submersible Pump set (Oil Filled) - Confirming to IS 8034 : 2002
Specifications :
Power Range

0.5 - 5.0 HP in 1 Phase
0.5 - 7.5 HP in 3 Phase

Version

220-240V, 50 Hz, A.C.- 1 Phase
350-440V - 3 phase

Method of starting

In 1 Phase - Capacitor start and capacitor run (CSCR) in water filled & Capacitor start and run (CSR) in oil filled
In 3 Phase - DOL / Star Delta

Speed

2880 rpm.

Discharge Range

15 - 355 lpm in water filled
15 - 475 lpm in oil filled

Head Range

10 - 300 mtr

Outlet size

32, 40, 50 & 65 mm

Degree of Protection

IP 68

Maximum Outer diameter

98 mm

Duty

S1 (Continuous)

Mounting

NEMA / Key way

Power Range

0.5 - 5.0 HP in 1 Phase
0.5 - 7.5 HP in 3 Phase

Version

220-240V, 50 Hz, A.C.- 1 Phase
350-440V - 3 phase

Method of starting

In 1 Phase - Capacitor start and capacitor run (CSCR) in water filled & Capacitor start and run (CSR) in oil filled
In 3 Phase - DOL / Star Delta

Speed

2880 rpm.

Discharge Range

15 - 355 lpm in water filled
15 - 475 lpm in oil filled

Head Range

10 - 300 mtr

Outlet size

32, 40, 50 & 65 mm

Degree of Protection

IP 68

Maximum Outer diameter

98 mm

Duty

S1 (Continuous)

Mounting

NEMA / Key way
Motor Pump
| | |
| --- | --- |
| NRV Housing | Cast Iron (Regular) / Stainless Steel (Platinum) |
| Impeller | Nylon / Noryl* |
| Diffuser | Cast Iron / Noryl* |
| Pump Shaft | SS 410 |
| Suction inter Connector | Cast Iron (Regular) / Stainless Steel (Platinum) |
| Coupling | SS 410 |
| Pump Casing | Stainless Steel |
| NRV Housing | Cast Iron (Regular) / Stainless Steel (Platinum) |
| Impeller | Nylon / Noryl* |
| Diffuser | Cast Iron / Noryl* |
| Pump Shaft | SS 410 |
| Suction inter Connector | Cast Iron (Regular) / Stainless Steel (Platinum) |
| Coupling | SS 410 |
| Pump Casing | Stainless Steel |
MOC Motor

Upper, Lower Housing & Motor Base

Cast Iron (regular) / Stainless Steel Jacket (Platinum)

Stator Body

Stainless Steel

Shaft

SS 410

Bearing

Leaded Bronze in water filled.
Anti frictional deep groove ball bearing in oil filled

Thrust Bearing Set

Carbon V/s SS in water filled

Product details
| | |
| --- | --- |
| Cable Connection | Star and Star Delta Connection |
| Flow Range | 480 - 1440 lpm / 28.8 - 86.4 m3/h |
| Maximum Cooling Flow | 0.15 m/sec. |
| Maximum Outer Diameter | 152 and 188 mm |
| Outlet Size | 4 Inch |
| Speed | 3450 RPM |
| Type of Duty | S1 (Continuous) |
| Direction Of Rotation | CCW |
| Degree Of Protection | IP 68 |
| Model Name/Number | OSP-60 |
| Brand | OSWAL |
| Head | 5-368 meters |
| Motor Horsepower | 3 - 75 HP |
| Version | 380/460 V,A.C,60 Hz |
| Thrust Load | 27500 N |
| Method Of Starting | DOL (Direct on line) and Star Delta |
| Maximum Starts Per Hour | 20 times |
| Usage/Application | Industrial |