V3 Borewell Submersible Pumps 80mm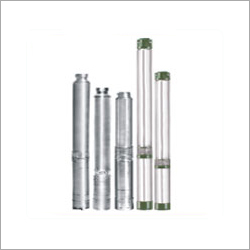 V3 Borewell Submersible Pumps 80mm
Product Description
Borewell Submersible Pumps

V3 Borewell Submersible Pumps (Water Filled) 80mm
We, OSWAL Pumps Ltd., are reckoned for reliability & performance, as a profound Manufacturer, Exporter and Supplier of V3 Borewell Submersible Pumps (Water Filled) 80mm. These are widely applicable in hospitals, hotels, government water supply systems, farms & drip irrigation, domestic water supply, multistory buildings and other industries. Moreover, the offered Borewell Submersible Pumps have some excellent features such as easy maintenance & repairing, highly energy efficient and long working as well as performance life. As the pumps are manufactured with efficient motor, water lubricated bearing and other quality components, these give optimum discharge & head. Also, selection of rotor, bearings & stator and winding wire etc., has been done very carefully so that we can offer our domestic & industrial clients the finest domestic Borewell Submersible Pumps.
Superior Attributes:
Highly energy efficient
Low energy consumption
Easy to repair and rewind
Noise free working
Trouble free suction.
Vibration free & noiseless
Excellent functionality & discharge
Trouble free pressure level
Smooth & constant flow.
Application in :
Bore well domestic water supply

Rural and municipal water supply

Irrigation

Water supply in commercial establishments

Small farms, gardening & nurseries.
V3 Borewell Submersible Pump set (Water Filled) 80mm


Specifications :




Power Range

0.5 HP - 1.5 HP

Version

220-240V, 50 Hz, A.C.

Method of starting

Capacitor start and capacitor run (CSCR) in water filled.

Capacitor start and run (CSR) in oil filled

Speed

2880 rpm.

Discharge Range

25- 80 lpm

Head Range

12 - 83 mtr

Outlet size

25 & 32 mm

Degree of Protection

IP 68

Maximum Outer diameter

76 mm.

Duty

S1 (Continuous)

Mounting Standard

NEMA / Key way

MOC Pump

NRV Housing

Cast Iron (Regular) / Stainless Steel (Platinum)

Impeller

Noryl

Diffuser

Noryl

Pump Jacket

Stainless Steel

Pump Shaft

SS 410

Suction inter Connector

Cast Iron (Regular) / Stainless Steel (Platinum)

Coupling

SS 410

MOC Motor




Upper Lower Housing & Motor Base

Cast Iron (Regular) / Stainless Steel Jacket (Platinum)




Stator Body

Stainless Steel




Shaft

SS 410




Bearing

Leaded Bronze in water filled

Anti frictional deep groove ball bearing in oil filled




Thrust Bearing Set

Carbon V/s SS in water filled